In this step, we're going to change the wave file used for the C172 stall warning to the one used by the Beechcraft Baron. We can use FS Sound Studio to determine the file used by the Baron by selecting the Baron and repeating our steps above, but to save time note the file used by the Baron is baron_stallhorn.wav. To change the sound file, either type in the full path to the file in the

Raw File

box, or use the Browse
button to select it graphically. The path to the Baron in this example is C:\FS2002\Aircraft\beech_baron_58\Sound, and you can find baron_stallhorn.wav there.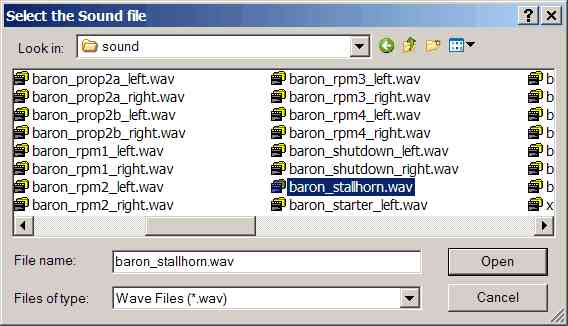 When you select this file, you'll see the following dialog box:



FS Sound Studio has determined that the Baron file needs to be copied to the C172's local Sound folder in order for FS2002 to find it. Click Yes
to perform the copy.

Click OK
to exit the

FSSS Sound Properties - STALL_WARNING
dialog, click OK
again to exit the

Sound Properties: C:\FS2002\Aircraft\C172\Sound\sound.cfg
dialog, and finally click on the Save
button on the Main dialog (or File:Save
menu pick) to save your sound.cfg file. The next time you load the C172 in FS2002, you'll hear a new stall warning sound.

Note that FS2002 caches the sound configuration when it loads an aircraft. If you're running FS2002 and wish to change a loaded aircraft's sounds, you must load a different aircraft, the reload the original to force FS2002 to reload the config files.