The Add New Sound Wizard allows you to add a new Panel/Sound combination to FS. It will guide you step by step through the process of selecting a target Aircraft to add the new Sound Configuration to, (the currently loaded Aircraft is the default), allowing you to enter a new Title, Description and UI Variation to uniquely identify the Panel/Sound combination when selecting an Aircraft to fly in FS.

The Wizard creates a new, empty sound.cfg file which can then be edited in FS Sound Studio. Or, by specifying the type and number of engines to the Wizard, the Wizard can select an existing FS standard Microsoft Aircraft and copy its sounds to your new Sound Configuration. This allows you to get started with a new Sound config very quickly.

For example, the FS2002 Beechcraft Baron 58 has one Panel named Panel, and one sound configuration named Sound. Using the Wizard you can create a new sound configuration, named. for example, Sound.mysounds, and populate it with the existing Baron sounds. You can then select this Panel/Sound combo in FS2002 in addition to the original, Microsoft supplied Panel. You then will have two Aircraft listed in FS2002, sharing the same Panel, each with their own private sounds.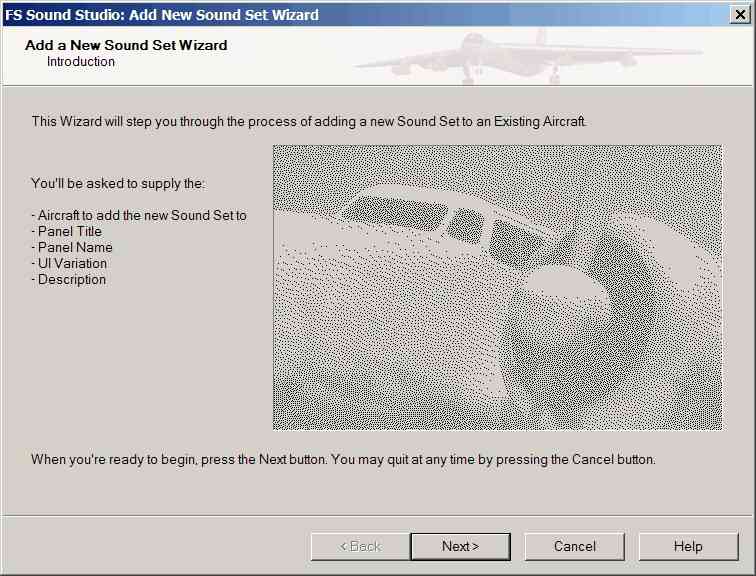 For a step by step description of using the Wizard, see the Tutorial.


NOTE: CFS3 does not support multiple sound configurations per panel, and the Wizard will not be available in CFS3 mode.